Best News of The Off Season So Far
The Beard has returned.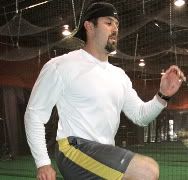 (AP Photo Special to the Globe / John Amis )
The Beard, like The Hoodie, endows upon its bearer special powers. The power to be a leader of men. The power to boggle the minds of the opposing offense. And most of all, the power to be damn cool. So , when The Tek showed up at his signing press conference late last December, I was horrified ( horrified) to realize to that the Beard had fled. (Or at least migrated to the face of one Theo Epstein. Who doesn't need it really, as he has his own special powers. ) Jason of The Mighty Thews was clean shaven, and there was much mourning.
But let rejoicing flow throughout the land: The Beard has returned. And spring training is only 3 days away, so soon The Beard will back in the company of its fellows: The MannyFro, The Bellhorn Shadow, The Cornrows, The Mu(eller)stache, The Caveman, and The Chinstrap. ( And what ever combination of small animal pelts Kevin is wearing around his head this month. I kid, I kid, Kevin. )
Of course, they might show up to spring training completely hairless. I would not put it past them.