Pitchers and Catchers and Youks, Oh My!
It's that time of year again. February 18 has come and passed, and spring (training) has begun. You know what that means....
SPRING TRAINING PICTURES!
(Part the First: Pitchers and Catchers)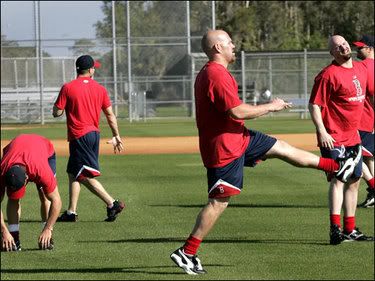 (Boston.com)
David Wells does his..... wait a minute. (squints) Hey, that's not Wells! That's newly shorn Kevin Youkilis, avec Millaresque mustache and goatee.
Apparently doing his best David Wells impression by kicking poor fourth outfielder invitee Dustan Mohr in the balls.
(Somewhere, Jedi Master Olerud is crying. "My apprentice has turned to the Dark Side....")
On the subject of Wells, Theo's response on that front yesterday cracked my shit up. Of course Theo was circumspect , as he is about everything. But the fact that what he basically said was "We know he is within the state lines of Florida, but past that we have no idea".....hilarious.
Speaking of Theo: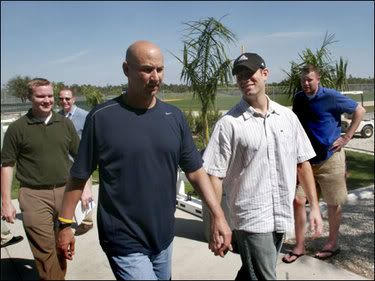 (Boston.com)
Apparently after that nasty breakup with Lucchino over the fall, Theo has found a new love of his life. Holding hands, puppy dog eyes, everything. However, I fear Theo will get his poor little heart broken. He may have gone to Baltimore, but Tito's heart will always belong to a certain slow- as- a -wildebeast first baseman...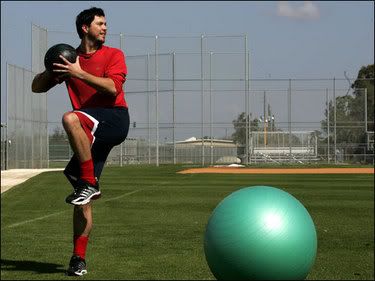 (Boston.com)
Papelbon(off camera):
Joooosh, can I go now? I don't really see how being your target in dodgeball is going to help my pitching arm....
Beckett:
Shut it, rook. This helps you protect yourself on the field. If you can dodge a bowling ball, you can dodge a line drive.
Papelbon:
I knew I should have snuck off with Hansen to get ice cream.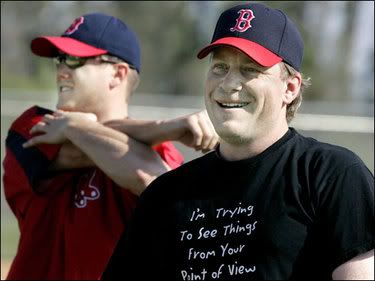 (Boston.com)
As his Sith Apprentice Darth Papelbon practices punching people with his mind from 20 feet away, Emperor Schilling cackles maniacally.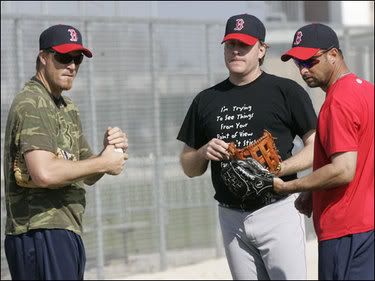 (Boston.com)
Wake: Damn it, Mike, did you
kill someone with only your feet
again?
Timlin: He was looking at me funny.
Schill: Now what are we gonna do for a fourth outfielder?