Bruschi Watch
From the
Boston Globe
:
BOSTON (AP) New England Patriots linebacker Tedy Bruschi suffered a mild stroke but is walking, talking and in good spirits, the team said Thursday.

Bruschi experienced temporary numbness, blurred vision and headaches Wednesday night and was taken to Massachusetts General Hospital.

''It has been determined that these symptoms were the results of a mild stroke,'' team spokesman Stacey James said. ''Tedy is in good condition and, as always, his spirits are high. He is walking and talking normally and stressed that he would like to thank everyone for keeping him and his family in their thoughts and prayers.''

The Patriots said Bruschi could be released as early as Friday.
Yaay. Thank god. I will be sad if he can't play anymore, but his health is
much
more important.
******
The news as of about 5:00:
Tedy's still listed in good condition, and apparently he's awake and talking, but the Pats are saying he had a blood vessel burst in his head. Which, combined with the blurred vision and paralysis, means he most likely had a brain anuerysm. Which is some pretty serious shit for a 31 year-old.
So, fuck football. I couldn't care less if he ever plays a snap again. I just want him home, completely well, walking, talking, playing with his adorable kids. Because not only is Tedy Bruschi an amazing linebacker, he's one of those rare athletes who is also a really good person, which we need more of. So Tedy, know that it's not only your team who would walk through walls for you. You've got a whole bunch of fans out here who feel that way too. Just work on getting better.
**********
2:00 ET:
According to the latest EEI Sports Flash, he's in good condition in MGH, and the team said he was up and about. Not out of the woods, but that's good news. C'mon Bruschi Bear, get well. Ya got folks in 6 states worried about you.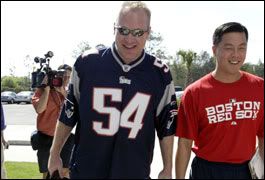 Make that 7.
There's such a solidarity, band of Boston-Sports-Brothers thing going between the Sox and the Patriots.
So adorable.