Spring Training
In honor of Tedy Bruschi-Bear getting out of the hospital today, I am going to cheer up the tone of this blog. With what, you may ask? Glad you did; SPRING TRAINING PICTURES!!!!! ( Disclaimer: all of these belong to the Boston Globe, I am only using them for my own amusement.)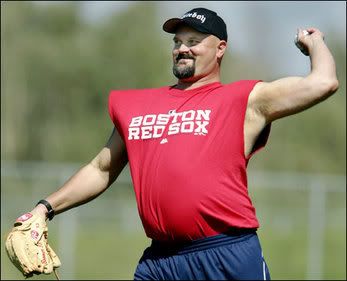 New Sox #2 starter, David Wells, attempts to keep from laughing as teammate Bronson Arroyo does a naked fan dance just off camera.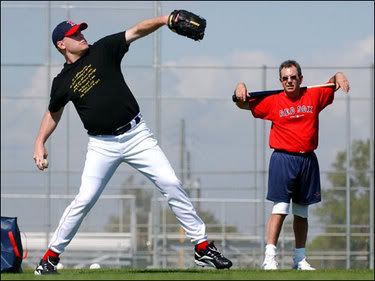 The first amazing revelation of the baseball season: Dave Wallace
does
wear something other than the Sox windbreaker! ( And he has hair.)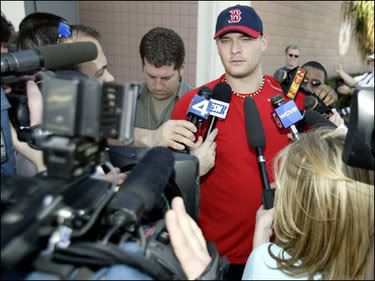 Wade Miller has that calm, Zen, "I could kill you with my pinky finger, but I choose not to because I am a nice guy" look.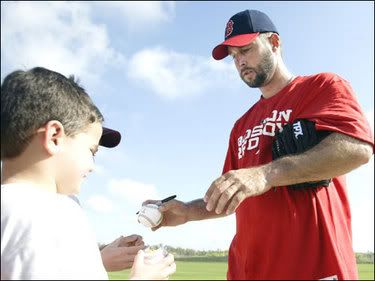 Aaaaaagh! The Beard has spread! Call the Exorcist!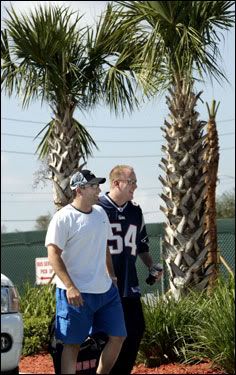 "Curt! Doug! Damnit, get on the field already, and stop playing 'Reservoir Dogs' !"