Things I've Learned This Week
1) Grapefruit juice and vodka, though it should be, is not called a Phillips Head Screwdriver; instead, it is called a Greyhound.
2) The best way to open a pineapple, if you don't have a machete, is not to poke it with the pointy end of a spoon. It is also not bashing it against a wall. The best tactic? Bashing it against the edge of marble sink. ( You see, the thing is Harvard students really aren't smarter than everyone else. We're just occasionally weirder.)
3)(hat tip to
Kristen
)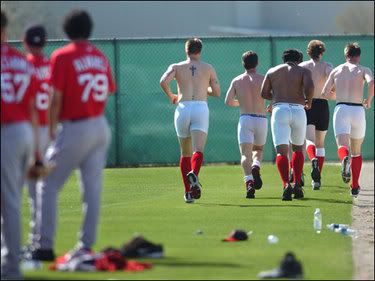 Rookie Hazing is the best thing ever invented in the history of man. With Jonathan Papelbon running a close second.
(It's the near-unanimous High Socks which make it art.)
4) Johnny Damon?
When he calls this year's team boring? And implies that they hate fun?
He is completely
full of crap
.
(Because Beth, as always, can say it much better than I can. I'll just add, that while the 2004 team may have been Monty Python, this year's team seems like it will be the Muppet Show. A little tamer, less randomly absurd, but just as funny.)
5) We now know where Manny was for the past week:
(boston.com)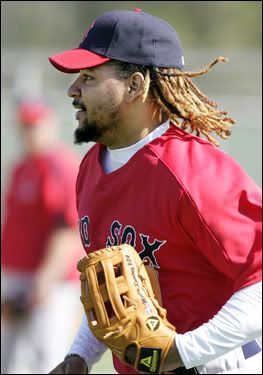 In the Star Trek Mirror Universe! ( With possibly a sidetrip to Jamaica.)