Blown Saves Bad, Walkoff Homers Pretty
I can't take these kind of games on consecutive days. Like Buffy, the above is basically what my brain can process right now.
And you know what? I have come to the conclusion, that it is mentally impossible for the Red Sox to win in calm, non-stressful fashion.
For instance, Matt Clement. On his worse days, he will walk and hit people, and then reach back somewhere and pull that strikeout of his pocket. He works better under stress.
Even the blowout on Monday? Made stressful by the inclusion of relief-ace-someday-but-not-quite-now Cla Meredith. Insurance runs are called insurance runs because YOU HOPE YOU WON'T HAVE TO USE THEM.
Yet, however they did it, the Sox ended up with the sweep. They are the definition of winning ugly. A trait that they seem to have acquired from the Patriots. Which my mental stability does not appreciate.
I did, appreciate, however, seeing THIS, IN PERSON: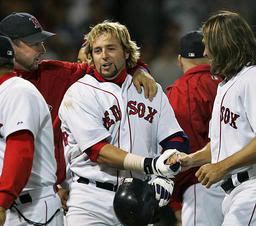 (AP/Elise Amendola)
Amazing, amazing game. The fact that I finally got to see my beloved String Bean pitch in person, was amplified by the fact that by the start of the 7th inning, he was pitching a
fucking one-hitter
. The boy really does have nuts the size Saturn.
The bats were not handling things nearly as well. I tried to encourage them, and got strange looks for my calls of "Let's go, Buckethead." "Knock some of those vowels out of his name."
Those defensive plays? Which you cringe at watching on television? Even worse in person, KEVIN.
However, like the consummate literary hero, Buckethead redeemed himself at the eleventh hour. With a crowd of 35, 00 urging him on. As much as a walkoff is cool by itself, it is amplified a million times by actually BEING THERE. It's like no experience I've ever had before. There is really nothing like being part of a a Fenway crowd when, as Joe says, we're trying to "will" a walkoff homer, or a inning ending strikeout. Because that's what it is: a physical and aural attempt to change the course of fate, a pooling of 35,000 people's love, hope and enthusiasm. Some people went off to their cars after the eighth, but most stayed. At first we didn't know quite whether it was a homer or not. There was a pause,. And then there was the opening chords of Dirty Water, and the realization came. It was deafening. 35,000 people's euphoria, joined in one.
That walkoff euphoria could have held me for quite a while.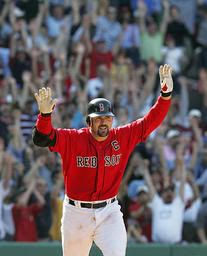 But that didn't seem to be the Red Sox's plan.
Or more specifically, not Keith "I
will
send each and every member of RSN into gibbering dementia" Foulke's plan.
We would have been perfectly happy with Manny's two-run homer in the 4th.
We would have been ecstatic with Matty Clement's 4th quality game in as many starts, 1 ER over 7 innings, only one walk.
It was 4-1 in the ninth. WE DIDN'T WANT A SITUATION IN WHICH A WALK-OFF WAS NECESSARY.
And yet there we were, in shock from Eric "Smugger Prodigal Love Child of Tony La Russa"Byrne's two-run homer, which made it 5-4.
And like Tuesday night, Papi again drew an Octavio Dotel walk. Millar walking to the plate.Did we dare, asked RSN? Could we ask this much of the man, two nights in a row.
No, no we couldn't. Easy flyout to left. One down.
And then, bestriding the batter's box, like the deck of a battle cruiser, comes our catcher, father, confessor, our captain, Jason Varitek.
One of the earliest Jasons went off to find the Golden Fleece. Well, Tek has a touch of the mythical about him too.
With Fenway as his Argo, and his teammates as the Argonauts, this Jason brought home the Golden Fleece.
Sure, it's only May. But that's what's great about baseball. The whole season may be something more akin to the Iliad, a grinding war of attrition.But that doesn't mean that there can't be small moments of myth and wonder along the way. We just happened to get two in a row.