Our Boys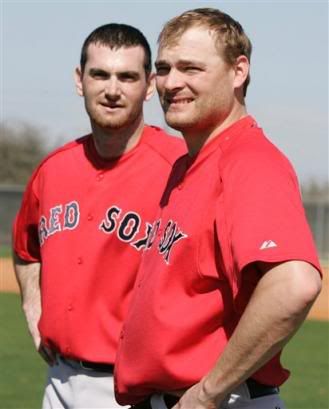 Edgar got the most money. David Wells got the most attention.
But so far, of the Red Sox Freshman Class of 2005, those two guys have earned the most love. And this weekend was their coming out party.
Wade Miller, at the beginning, was almost an afterthought. He was hurt. He had immense talent, but he was hurt. He was stuck in Houston financial limbo and snapped up by the Boy Wonder when he was non-tendered.
A million a year, for two years.
Compared to the financial drama accompanying Pedro's exit, we got Wade for a bucket of baseballs.
Of course, as much as he was an upside contract, there was a very real chance we might not get to see said upside.
They were not, come hell, high water, or plantar fasciitis, gonna rush him back. And even when Hell and High Water arrived, they did not rush him back.
But so far? He has been worth the wait. More than worth the wait.
My personal nickname, since seeing a couple pictures of him in spring training, had been Zen Master. Whenever he's working in front of the media, but especially on the mound, there is this preternatural calm about him. Nothing will break him out of his tunnel vision. Bronson has this same quality, but with Wade, it's different. With String Bean, there's a benevolent quality to it, often expressed in a smirk.
There is nothing benevolent in Wade Miller's mound presence.
You can see it on TV, obviously; but you can even see it from the second to last row of the third base grandstand. Where I experienced it on Friday.( Where I also met SAM!!! Eeeeeee.)
Even from Row 17, you can feel Wade's aggression, his composed fury, in the immediacy of his snap to the mound.
And the crowd knew it, and fed upon it, as he, I think fed upon the energy of the crowd. Because that's what competitors like him do. When he allowed his first hit in the top of the fifth, he got a round of Fenway applause, not sarcastic, but respectful.
Because we knew he could have done it. Because despite the verdict of No Decision in his previous starts, we feel that potential, that immense talent that he's working back to. It's what was behind the standing O he got when he left in the 7th, since we knew, whatever the pitching line was, how much of a victory it was that he got to the 7th.
When Theo signed him. the media and fans realized how much a victory it would be if the Sox got even a small percentage of what he gave Houston. But Wade Miller didn't want a small percentage. The man will not rest until he is back a 100%, until he can provide a solid argument to why he should be considered the team's number one starter. Because the Zen Master does not settle for second best.
And you know what? Neither does Matty Clement.
And he had a whole lot more walls to break down than Wade.
In his whole spring training, and his first few starts, Matty was battling against not only the other team, but a decent amount of ghosts as well. There were the ghosts of Pedro and D-Lowe: "You'll never be as good as us. You can't replace either of us in the heart of Red Sox Nation." There were the ghosts of Carl Pavano and Brad Radke: "You're a second choice. You wouldn't even be here if we hadn't chosen to sign elsewhere." There was even the ghost of Matty himself, of the Padres pitching phenom who had never quite lived up to his potential.
To look at Matt, you wouldn't think he had the strength to fight off all those spirits. He looked quite frankly, like the nerdy kid pushed into the frat house.That's why I started calling him Matty in the first place; I've known a lot of little kids named Matty, and he looked like an overgrown little boy at first. He's not all that intimidating on the mound, either. He doesn't have the physical presence of Wells or Schilling. He doesn't have the channeled fury of Wade, or the smirking insouciance of Bronson, or the deceiving calm of Wake and the knuckler. He crouches, and curls, and hunches over.
But that pitching stance belies the real Matt Clement. It disguises the strength, and guile, and sheer nasty pitching talent that he has. He will have his baserunners, he will occasionally go a little wild. But that is when he gets better. He displays his best pitching bravado when he's getting himself out of jams.
The difference on Sunday? That bravado which we saw in those pressure situation was there for NINE. WHOLE. INNINGS.
Which in this day and age of pitch counts and high class bullpens, is incredible.
He was in control. He did not let the brief issues of the 4th inning, or the initial impotence of his offense, knock him off his feet. 7 strikeouts. No walks. Nine full. And "Matty", which started out as a slightly mocking, but loving, term of endearment, turned into a magic word. I repeated it over and over at the TV, as if it would conjure 2 more outs for my darling boy.
And he did.
Both Matty and Wade came into this year, and this team, fighting against the ghosts, the expectations of last year. And they sent those ghosts a message this weekend:
"Screw you. This is our house. These are our fans, and we will win them over, and make them love us. We are their guys now."
And so they are. They are our boys, and we are as proud of them as any parents could be.