Spring Training Pictures 2: Position Player Boogaloo
I just realized that while I spotlit (spotlighted?) pitchers and catchers a week ago, the rest of our ragtag band arrived with no fanfare whatsoever. So, without further ado, ladies and gents, the infielders and outfielders of the defending WORLD CHAMPION Red Sox!!! ( That never gets old.)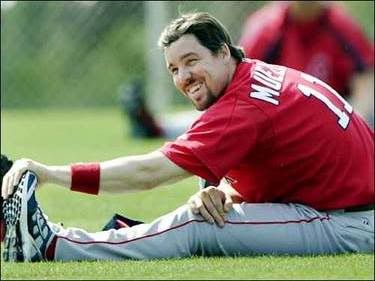 Dude. He's got long(ish) hair. He dyed his beard. He's
grinning
. Billy Mueller has finally come over to the dark side.
(boston.com)
Our new starting shortstop, who we like just well fielding short grounders as we liked him hitting them for the Cardinals. I kid, I kid. He sounds like a quiet sweetheart. We will have the most demure middle infield in the American League.
(AP)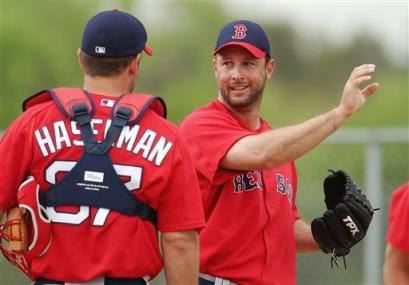 "I swear, the blue ghost of Hoyt Wilhelm was right there, and he told me to go to this place called Dagobah, and work with this great pitching coach named Yoda...why are you looking at me like that?"
(AP)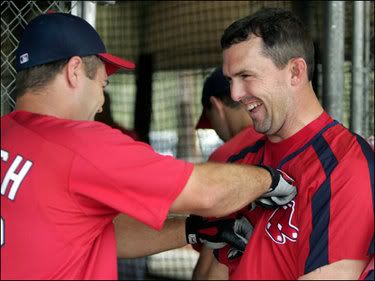 Wondertwin powers, activate!!
(boston.com)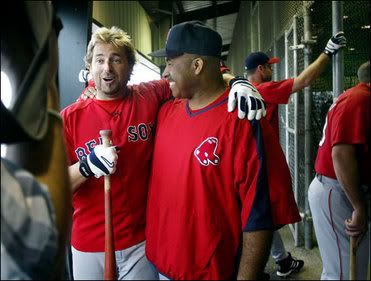 Everyone was cool while Kevin was just singing bat karaoke, but when he started belting "I Will Always Love You" to Papa Jack, things got a little awkward.
(boston.com)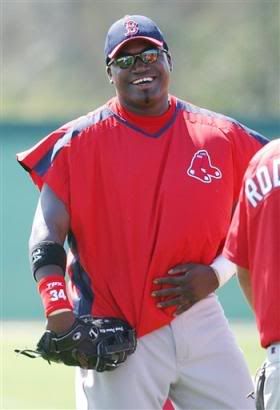 The sun is shining, the birds are chirping, and Big Papi's swinging the pine again. Life.Is.Good.
(AP)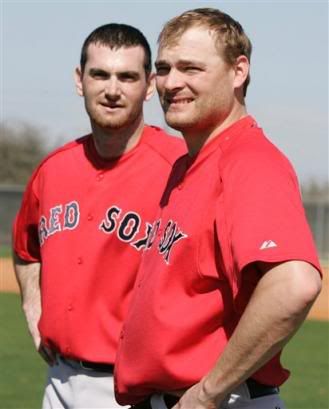 "They're all nuts, aren't they, Wade?"
"Stark staring bonkers, Matt."
(AP)